Amid divided times, faith communities emphasize moral courage
By Tripp Stelnicki
The New Mexican | Posted: Saturday, April 15, 2017 11:00 pm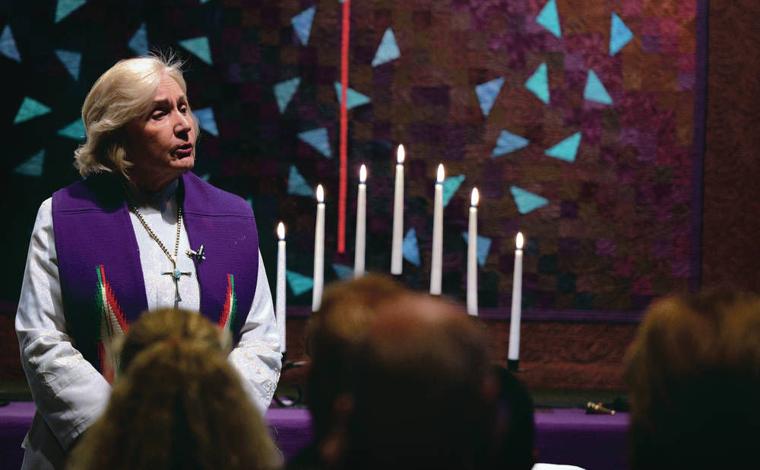 This Easter season, local faith communities put emphasis on moral courage. 
The Rev. Talitha Arnold speaks during the Maundy Thursday service held at the United Church of Santa Fe. Clyde Mueller/The New Mexican
 The Rev. Talitha Arnold has Martin Luther King Jr. on her mind.
Arnold, the senior minister at the United Church of Santa Fe, led a Lenten discussion series on King's letters and sermons, exploring how King's faith grounded his relentless opposition to racial violence, American bombs striking faraway lands, injustice, hate and fear.
Before that, the United Church held another talk, this one on Dietrich Bonhoeffer, a Lutheran pastor in Nazi Germany. He was a vocal dissident, fighting the regime's heinous anti-Semitism and plotting to smuggle Jews to safety. In April 1945, he was hanged in a concentration camp.
The lesson choices, and their timing, were no coincidence. As religious leaders in New Mexico and beyond celebrate one of the holiest weeks in the liturgical calendar, they find themselves navigating a time of deep divisions, uncertainty and anxiety. Their approaches vary, but a central theme running through their messages to their congregations has been the value of faith in tumultuous times — how faith, they say, can help bridge divisions with compassion.
For Arnold, the moral courage of figures like King and Bonhoeffer can offer a sort of spiritual blueprint, she said, perhaps especially useful for those who feel anxious or adrift in the world today, one where fears of religious- and race-based antagonism have been raised by hate speech, vandalism and demagoguery.
"We have to make choices in this time," Arnold said. "How do we live faithfully, live honestly?"
These questions are timeless, but in a vitriolic political atmosphere where divisions are exploited, the faithful must return to them with renewed urgency, Arnold and other clergy say.
In interviews with The New Mexican, spiritual leaders of varying denominations cited the unprecedented wave of human displacement worldwide as a primary source of friction and suffering — a call, they said, for a genuine expression of faith.
"For Pete's sake, [Jesus Christ] was a refugee himself," Arnold said.
Pope Francis has marched at the front of this column, centering his agenda on the humanitarian crisis, even wading into potentially divisive political territory. His opposition to anti-migrant policies and proposed immigration crackdowns crossed the presidential campaign of Donald Trump; the pontiff was unmistakable when he said those who seek to build walls are "not Christian." Trump, in response, called Francis' comments "disgraceful."
To live faithfully is to inevitably enter areas riven by politics and partisanship, various spiritual figures said.
"You can't help it, I don't think," said Joel Garnor, abbot of the Santa María de la Vid Abbey in Albuquerque. "Teaching is important and understanding is important, but the more important thing is that Christians be people of action."
The archbishop of Santa Fe, John C. Wester, reached out to the New Mexico immigrant community in a February letter, referencing Trump's executive orders on immigration. Writing that the archdiocese would "walk shoulder-to-shoulder" with immigrants, Wester offered immigrants his prayers and vowed that the Catholic community would reach out to lawmakers to voice their support and advocate for "fair and adequate" immigration reform.
"We are pilgrims on this earth together," Wester wrote in English and Spanish.
The obligation to shelter the vulnerable has indeed taken on renewed importance, said Rabbi Neil Amswych of Temple Beth Shalom in Santa Fe, in light of antagonism toward those in need both inside and outside U.S. borders.
"For us to say that immigrants aren't welcome, or that immigrants don't contribute to society, or that immigrants are criminals, it's not borne out by any of the facts," Amswych said. "It makes a mockery of our own narrative."
"For the Jewish people, that's not just a narrative that goes back to the formation of America, it's a narrative that goes back thousands of years. We were those people."
The suffering of displaced and oppressed people is amplified during Passover, when the Jews' flight from persecution is commemorated, Amswych said. The temple will host a community conversation on immigration later this month. That follows a recent interfaith panel where participants talked out various issues, their feelings and fears, and potential action.
Such gatherings are essential, the rabbi and others said, to bring individuals of whatever denomination, or none at all, out of isolation.
"I think recently people have become aware of how difficult life can be for many people in this country," Amswych said. "… One of the roles of faith communities is to help people find not just their place in the world spiritually but the practical manifestation of that."
A Pew Research Center study released this month found social hostility toward religion is on the rise, as well as government restrictions on beliefs and practices. In the U.S., news reports have identified dozens of bomb threats at Jewish community centers; one particularly galling incident occurred at a Jewish cemetery outside St. Louis, where hundreds of headstones were toppled in February.
Hate crimes and hate groups have grown in number, government and advocacy groups have reported, particularly those expressing anti-Muslim sentiment. The Southern Poverty Law Center, in its annual census of hate groups, showed the number of such groups nearly tripling from 2015 to 2016.
The Pew study cited the example of Hungarian Prime Minister Viktor Orban, who has fought against allowing Muslim refugees to enter Europe. In a 2015 commentary piece in a German-language newspaper, Orban warned of the "radically different culture" of largely Muslim asylum-seekers.
Imam Aziz Eddebbarh, chairman of the Santa Fe-based nonprofit Ibn Asheer Islamic Institute, said demagogues of the political moment want to engage the "reptilian" instincts of the human mind — the impulse to attack the unfamiliar figure that appears on the hill.
Prayer, in such a context, provides the path around those baser instincts, Eddebbarh said.
"When you pray, you pray to the lord, the creator, the protector, the sustainer, the one who is in charge," he said. "By doing that, you rely on hope and faith and love, not on fear."
Eddebbarh hopes the film The Sultan and the Saint will encourage the better angels of our communal nature. The film depicts a meeting between St. Francis of Assisi and Sultan al-Kamil of Egypt during the Crusades; it has screened in dozens of U.S. cities since November and will be shown Wednesday at the Unitarian Universalist Congregation of Santa Fe.
The film is meant to improve communication between the Muslim and Christian communities in the spirit of that 13th-century interfaith meeting. Local peacemakers of both faiths will be recognized at the event, said Eddebbarh, who has helped organize the screenings in various cities.
"Dignity and honor is not conditioned by race or culture or language or creed — or even believing or not believing," Eddebbarh said. "Every single human being is dignified by God."
When crises appear and escalate, the Rev. Adam Lee Ortega y Ortiz, pastor and rector at the Cathedral Basilica of St. Francis of Assisi, sees an opportunity to challenge parishioners.
Following the Palm Sunday attacks at two Coptic Christian churches in Egypt that killed more than 40 worshippers, Ortega preached on the authenticity of faith, tying his message to the Holy Week story of Peter, the apostle who denied Christ in a pivotal moment.
Ortega said Christians must address fear and contemplate the question: "Are you willing to die for your faith?"
During Easter week, when more casual practitioners return to Mass, these difficult subjects must be approached with ever more diligence, he said.
"I firmly believe you gather more people with honey than with vinegar, but that doesn't mean you water down your faith in any way or weaken it," Ortega said. "I think most people want something strong, something they can hold onto. When it becomes fluid, they'll let it go."
Ortega said he's been forced to consider the possibility of bloodshed reaching his congregation. His concern heightens in the wake of events like the church attacks in Egypt. The cathedral has taken additional safety measures, he said.
"I think that's the challenge: [Faith] has to mean something to us," Ortega said. "It can't just be something like a little piece of jewelry we wear. It has to be something we live."
Allen Sánchez, president of CHI St. Joseph's Children, a Roman Catholic nonprofit that advocates for child well-being, said a return to the fundamentals of compassion, or an enhanced emphasis on it during Holy Week, could help break down what he described as the crisis of closed-mindedness gripping the nation and state.
"When we gather at a table and share, we're not just sharing the meal, we're sharing each other, sharing a dialogue," Sánchez said. "I think what's comforting and what gives us hope is we can always re-enter the dialogue, and we can begin to listen again."
Sánchez, who petitioned the Vatican to begin the process of canonizing Sister Blandina Segale, a 19th-century nun who spent many years in the region, said he met last week with the postulator in the proceeding, the person who represents a case for canonization in Rome. The postulator was "all upset, saying, 'Everywhere you look in Italy, there are Muslims, Arabs, we're a peninsula sticking out into the Mediterranean for them to land on,' " Sánchez recalled. "I said, 'Well, you're working to make a saint, but you've got to remember to be a saint.' "
The story of Christ's crucifixion, Sánchez said, is the most powerful mystery and lesson in Catholicism, one that reminds the faithful to love the other unconditionally.
"[Christ] puts himself in our place, and instead of dealing out judgment, he deals out forgiveness," Sánchez said. "We can do the same thing."
The Rev. Harry Eberts of the First Presbyterian Church of Santa Fe said faith connects people not only to their neighbors but to the experience of previous generations, whose suffering can help contextualize current events like the migrant crisis. Still, Eberts said, "I think we're all feeling a sense of anxiety one way or another about what the news will be when you wake up in the morning — the next thing that happens that you thought would never happen."
Eberts said he had been encouraged by different faith groups in Santa Fe coming together at recent panels. Peacemaking is not the province of any one label, he said.
"It's not like we have all the answers," Eberts said. "It's more like we come together with all of our questions and look back on our ancient wisdom and ask, 'How can we apply it today?' It's never a pronouncement. It's more a conversation."
During a tranquil early morning period of contemplative prayer at the United Church last week, the Rev. Carol Jolly, parish associate for pastoral care, read quietly about the lengthening shadows in the week's Scripture. Jolly prayed for the strength to aid the helpless and hopeless.
Between the readings, there was quiet. Terry Terry, a retired parishioner, was the only person in attendance. She sat for long stretches of silent reflection as the sunrise peaked through the windows. A fountain rippled faintly in the back of the room.
"The details don't matter," Terry said afterward, in the church lobby, asked about the role of faith in a troubled world. "No matter what the details are, the power of love is most important. Love always brings new life."
Jolly appeared and asked what Terry thought of the short service, about the readings.
"I vote for more silence," Terry said. "The world is crazy enough. There's enough distraction."